Installers are beginning to give feedback (constructive criticism) in regards to high performance cable outlet boxes. With an increase in 10Gb/s high performance cable's diameter, such as Category 6A, it is anticipated that these high performance cables will pose installation challenges in some standard cable outlet boxes."4 square" boxes can make installation difficult, and according to installer feedback there isn't enough space in standard cable outlet boxes for these high performance cables.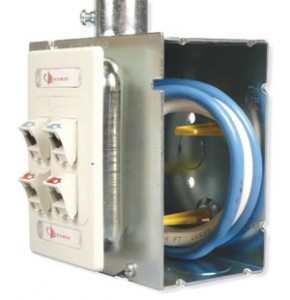 If you've tried to stuff big 10Gb/s cable into little boxes, I don't need to tell you that 50% more space and some cable management features would help. . . which (not coincidentally) is exactly what Siemon's new 5 Square telecommunication outlet box delivers. Check it out:
Siemon's 5 SQUARE telecommunications outlet box was specifically designed to support today's high-performance copper and fiber optic cabling systems, providing 50% more useable space than traditional 4 square boxes. This additional space simplifies installation and cable management and helps maintain the strict bend-radius requirements of high-performance systems such as category 6A and category 7A copper while leaving room for future upgrades and expansions.
50% More Space ­ Siemon's 5 SQUARE box provides 64 cubic inches of useable space versus just 30-42 cubic inches for standard boxes
Integrated Cable Management ­ 5 SQUARE is the only telecommunications outlet box with an integrated cable management system
Manage Bend Radius ­ Supports bend-radius requirements of high-performance cabling to ensure proper consistent performance
Support Larger-Diameter Cables ­ Provides additional space for management of larger diameter cables, such as category 6A UTP
See the full product here:
http://bit.ly/Siemon5SquareBox