Door / Access Control Systems
Door / Access Control Systems
Medical and Keyless Tracking Installation, Maintenance & Repair
At World Telecom & Surveillance, Inc. we offer a broad range of Access Control Systems from ID Badging Systems, to Door Control Security and Keyless Entry. We also design, install and maintain Tracking Systems for medical & Assisted Living Facilities, we also provide excellent solutions for storage unit facilities.
Our technicians can introduce you to a variety of products to help your business reflect security and professionalism throughout the office.

INSTALLATION PROS
AMAG Certified Installer
DSX Certified Installer
RS2 Certified Installer
S2 Certified Installer
Professional Security Door Installation in Northern California
You can never be too safe these days, and with our professional security door installation, your business will be more secure than ever. From a basic access control door to our most advanced equipment with updated security features, the wide variety of systems we offer allows us to fill your security needs. We will assist you in determining the right product to fit and armor your business.
Benefits of Access Control Systems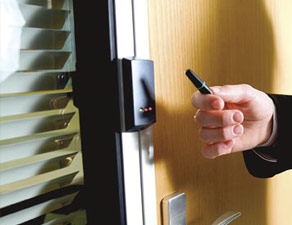 State-Of-The-Art Security Features
Centralized Management
User-Level Permissions
Protection of Property, Personnel, Profit
Total Control of your Business Property
Customized Solutions
Complete Site Management