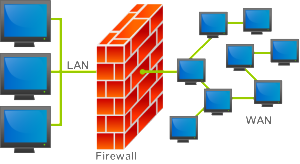 Selecting an internet service provider for your business should be considered an important task. Though it may seem like the only real difference between providers is price, there are actually several features that vary from ISP to ISP (speed, bandwidth caps, availability of technical support, etc). Since the Internet is extremely significant to the success of a business, you want to ensure you make the right choice. As you look into the variations of services offered between business internet providers, one of the most crucial elements to think over is the security each one provides.
Due to the customer data, business files, financial information and other sensitive material that a company needs to protect, security features have become top priority for a lot of ISPs and their customers. Unfortunately, it's not uncommon for companies to be exposed to cyber crimes that have the potential to ruin their reputation. When choosing a Redding business internet provider, you may want to inquire about the services mentioned below.
Firewall
Firewalls safeguard a company's internal computer network from outside access that is gained through the Internet. Before any information is passed in or out, a firewall will examine its legitimacy to determine acceptability of the traffic. Meant to block hacker attempts on a company's system, ISP-provided firewalls will prohibit inappropriate traffic detected on a network and document the details of any efforts of an attack. Firewalls also give employers the opportunity to restrict employee access to certain websites.
Email Virus Scanning
Email virus scanning is a helpful tool for making sure all of your company's incoming and outgoing email correspondences and their attachments are free of malicious content. After scanning for viruses and spam, most internet service providers will immediately remove that part of the email to avoid spreading it to other networks and will notify the business of a possible virus threat. If your company is unknowingly sending out emails that are deemed to be spammy or virus-laden, all future email communication to customers or other protected businesses may be intercepted and blocked from being delivered.
Web Filtering
Some business internet providers suggest web filtering as part of their security services. Web filtering works to keep a company's network system free of unsuitable web content that could put their security at risk and jeopardize user privacy. ISP filters take the burden of managing software off of companies themselves, and automatically establishes Internet access customized to your company needs. While minimizing the risk of becoming vulnerable to malware, phishing and other security dangers, filtering can also contribute to greater employee efficiency.
Regular Backup Service
Backup service is required for any business that doesn't want to experience extreme devastation in the event of a security breach or natural disaster. With many ISPs now offering automatic weekly or daily backup services that store your valuable information off site, there is no reason you should ever be without current backed up data again. And with offsite storage, it's easy to access and share files from any device no matter where you are.
High speed internet is a necessity for companies that want to grow and succeed, but it can become a serious problem if proper security measures aren't put into place. Be certain the Redding business internet provider you're considering offers everything you require to be protected.