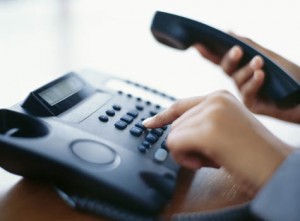 If the lifeblood of a business is products and services, then business phones are the arteries and veins that help to keep everything flowing.
Selecting the proper business phone and related optional services for your Redding company can make the difference between dropping important business opportunities and landing successful sales.
What's It For?
Unlike regular residential phones, business phones are more versatile and feature packed. They give multiple phones within the business the ability to connect to each other through call transferring and conference calling. In addition, there are other services such as call forwarding, voicemail and customer ID, to name a few.
The first point of contact with customers and clients is often through a phone call. Think about if a receptionist had to take a call and say, "Just a moment please," and run frantically down the hall to alert Ms. Smith that she had a phone call.
And then imagine Ms. Smith running back to receive that call. As you can imagine, this isn't feasible or productive. The solution is to install multi-line business phones to handle the customer traffic.
What Do You Need?
Whether your business is small or large, the professional staff at World Telecom & Surveillance, Inc. will install a system that is geared towards your specific needs and unique applications.
We will install, route, and wire your business telephone system and use cutting-edge equipment and installation methods to make sure your business phones work right the first time and every time you use it.
A Step Beyond
While a business phone is essential, there may be other business communication services that you find your company needing either immediately or in the future, as the business grows.
If you or your business reps are out at meetings or in the field, phone calls that arrive at the business location can be directly forwarded to employee cell phones or via email. This effectively closes the loop on missing important calls from clients.
Business phones can also incorporate public address systems, paging services, and intercom services to keep everyone connected at your business.
Some opt for VoIP, or Voice over Internet Protocol, which effectively frees your business from the telephone company and uses your available high-speed internet connection to make and receive phone calls.
This method is not only economical, it means that you can call anywhere in the world without being charged toll fees from the telephone company.
Anything You Want
Whether it's one phone or 1,000 business phones where CTI & ACD Integration is essential, World Telecom & Surveillance, Inc. is there for you and can configure a business phone solution that meets your needs now and in the future.