As smartphones become smarter and search engines fill with information, it is clear that society has embraced the digital age in some very dramatic ways.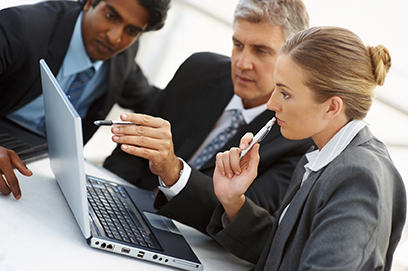 Today, businesses of all sizes are using previously unheard of web-based tools in order to protect their assets and employees while also interacting with their customers.
Along the way, company owners have discovered that reliable internet services are crucial to remaining competitive.
Foolproof Financial Fortification
In recent years, the internet has digitized banking and financial management. With the help of services such as Quickbooks Online, business owners can track everything from payables and receivables to payroll and tax payments.
In conjunction with web-based timecard systems, high-speed business internet services make it easier than ever for payroll professionals to track employee hours.
Likewise, banking tasks and the associated records are now easily accessed and managed with just a few keystrokes. This level of access provides business owners with constant access to financial records including any debts and assets.
Colossal Communication Control
If they wish to compete, businesses must be easily contacted by customers. Internet services support communication systems of many types. Company telephone and voicemail services are almost entirely web-based.
The rise in consumer internet usage means that more customers are using email, website contact forms, and online maps more than ever. Not to mention that many businesses are found through social media platforms.
Successful online marketing campaigns connect businesses to customers. Then, video conferencing and DocuSign-type services help those companies land those contracts and clients.
Safer Security Systems
The security offered by business internet services may be the biggest reason to subscribe. Regardless of a business' location, cloud-based storage protects important company files and client information while making it accessible from virtually anywhere.
Surveillance systems use internet services to instantly upload camera footage and entryway tracking data making businesses safer for employees and customers.
Finally, remote access to system controls, including lights and HVAC units, let business owners control usage and make changes anytime the need arises.
Simply having business internet service is not enough. Not all providers are able to supply businesses with the speed and protection that is necessary to remain competitive. In this day and age, there are many reasons why companies seek to obtain access to the most reliable internet services available.