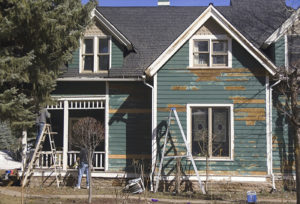 There are many things aside from crime that can put your family at risk or cause costly damage to your home. In fact, North America saw its highest number of natural disasters in 2016 and totaled approximately $175 billion in damages. Unfortunately, nearly 70 percent of homeowners caught in the 160 hurricanes, floods and fires that year were uninsured. Luckily, innovations in home security systems are offering homeowners the chance to monitor more than just break-ins, and therefore, save a lot of money on repairs. Newly developed sensors will now alert you to fires, flooding, freezing temps, and gas leaks.
Fire Danger
According to the National Fire Protection Agency, an average of seven people died in home fires each day between 2007 and 2011. Smoke alarms were missing or not functioning in 37 percent of these deaths because homeowners will disconnect their smoke detectors when the battery starts chirping and then they will forget to replace them.
The newest detectors protect more families with heat sensors that warn families of increased temperatures that could be the result of a fire. Recent developments have enabled these detectors to activate at 117 degrees and wifi connectivity has allowed them to be remotely monitored via home security systems and mobile phones.
Rising Water
All 50 states experienced flooding in just five years and most homeowner's insurance policies did not cover the damage. However, natural disasters are not the only flood danger to which homes are subjected. From over-full septic tanks and clogged drain pipes to leaky appliances, unexpected flooding can cost homeowners an average of $7,500 depending on the extent of the damage.
Just as heat sensors detect potentially dangerous temperature changes, flood sensors are prepared to warn homeowners of rising water levels that could be the result of flooding. These electronic devices are especially useful in areas prone to water leaks, such as near water heaters and in basements.
Freezing Temps
While some regions of the United States are prone to high temperatures during the summer months, the residents of the nation's coldest areas are not unaware of the dangers associated with low temperatures. Come January, the citizens of Fargo, North Dakota are often struggling to keep their homes warm and their water running while the outdoor temperatures plummet to -5 degrees or less.
In recent years, these homeowners have found solace in the use of freeze sensors. These devices are most commonly used to warm homeowners of abnormally low temperatures that can cause water pipes to burst. When connected to a home's security system, the monitoring company will receive an alert that can then be sent to the homeowner.
CO Detection
Even though a gas leak had been reported, three responding firefighters, two police officers, and three civilians were injured when an unknown ignition source caused a massive explosion in a popular Portland, Oregon shopping district. When it comes to carbon monoxide, fire and explosion are not the only dangers to be considered. Aptly named the "silent killer", carbon monoxide leaks have been known to kill entire families with little warning.
CO detectors are designed to measure the amount of this colorless, tasteless, and odorless compound before dangerous levels are reached. The goal of these sensors is to give residents adequate warning and give the opportunity to ventilate or evacuate the area. Many CO detectors are now able to link to security systems and smartphones making it easier to protect the people and pets we hold most dear.
In conclusion, security systems are doing a lot more than alerting the police to burglars around your home. The advancements in available sensors, alerts, and monitoring are sure to reduce the numbers of future fire, flood, freeze, and carbon monoxide deaths and damages.