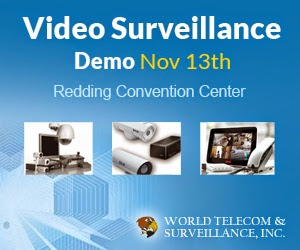 Redding is a charming Northern California community that residents, business owners and visitors could at one time count on to be a safe and secure place to conduct their daily lives. Unfortunately, things have changed a bit over the years, and now there are constant reports about the increase in criminal activity. However, there are plenty of people who aren't ready to give up on Redding and all that it has to offer.
The Safe City Project is one group in particular that has dedicated itself to reclaiming safety in our beautiful city by finding ways to reduce the rising crime rates. After months of extensive research and strategizing, the team members involved with the project have put together an informative and valuable event that World Telecom & Surveillance, Inc. is proud to play a part in.
The Crime Solutions Event will take over this quarter's regularly scheduled town hall meeting on November 13th, to be held at the Redding Convention Center. The main focus will be to highlight the top 10 solutions for fighting crime in our community. World Telecom & Surveillance will be participating as one of the featured security vendors at the crime fair from 5:30PM-7PM while showing demonstrations of our high quality security camera systems.
This is an initiative that we feel strongly about and support to the fullest. We hope to see all of Redding come together to learn more during this event.
What: Town Hall Meeting/Crime Solutions Event 
Where: Redding Convention Center 
When: Nov 13th, 2014 from 5:30PM-7PM