Flir Systems Thermal Analytics Processor, combined with their thermal cameras and integrated technology is near unbeatable.
According to Flir Systems, they state that, "By combining our thermal security cameras with the Thermal Analytics Processor, we've created the first all-in-one solution to join thermal night vision with edge NVR storage, IP video encoding, and adaptive analytics optimized for FLIR's range of high-performance thermal cameras. Pre-integrated with many common enterprise Video Management Software products including, Milestone, Genetec, OnSSI, and Lenel, this is the most effective, affordable off-the-shelf solution available for thermal security."
The technology and range of video surveillance is constantly adapting to the growing and increasing needs of video surveillance. Here we'd like to share the advantages of a Flir Thermal Analytics Processing System.
"Thermal security cameras are the most powerful tools in any video security arsenal. Add in the Thermal Analytics Processor and they're just about unbeatable" (Analytics Video Brochure. FLIR Systems, Inc, 2011.).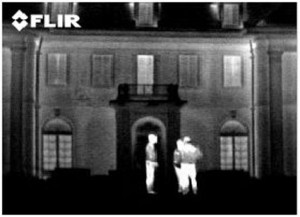 Detect with Thermal Cameras
Thermal cameras solve many common video imaging challenges. Darkness and sun glare; smoke, dust, and smog; FLIR sees clearly through them all, so you can rest assured that your facility is as safe as you can make it. FLIR cameras give you:
• Clear video in all weather and light/dark conditions
• Video that isn't affected by shadows and backlight
• The power to tell the difference between objects like humans, animals, cars, and bicycles by a color coded box around objects (see photo below):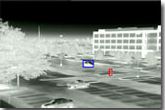 Alarm with Adaptive Thermal Analytics
"The Thermal Analytics Processing System features adaptive analytics algorithms that are specially designed to work with FLIR thermal video, virtually eliminating nuisance alarms so you can respond more efficiently and cost-effectively. The Thermal Analytics Processing System
features:
• Self-calibrating, Adaptive Video Analytics specially tuned for FLIR thermal video
• Adaptive Analytics that work on all video resolutions including megapixel, not just 320 × 240 like most other analytics
• Analytics that are self-calibrating, requiring little or no set-up
• Flexible installation for "edge based" or "central server based" architecture
• Visual Alarm presentation; unique colored box around objects based on classification
• Analytic behaviors that include fence-line perimeter crossing, area alert, direction of travel alert, crowd detection, and more.
Record to a Built-In Hard Drive
"This is a cost-effective system that maximizes network bandwidth conservation while enabling wireless deployments. The Thermal Analytics Processing System gives you all of the benefi ts of edge-based architecture without suffering the vulnerability of typical "all-in-one" components." (Analytics Video Brochure. FLIR Systems, Inc, 2011.)
• 160 GB on-board hard drive for weeks of video storage
• IP video encoding
• Dual stream encoding selection
• Ideal for wireless deployments Notify with Automated Software or Alarm Relays The Thermal Analytics Processing System gives you fast notification for rapid response. It will automatically send a visual alarm assessment to as many as 32 mobile devices keeping the people who need to know in the know.
• E-mail alarm video clips (selectable pre/post alarm times) to remote devices or central monitoring station for easy and rapid assessment
• Optical relay alarm outputs
Contact Uwe Zambrano at World Telecom & Surveillance, Inc for all your Flir System questions. Let us help you find an affordable and effective Thermal Analytics Processing system for your business!
530-223-9753 ph
530-223-9186 fx