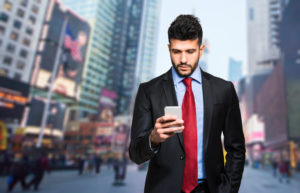 As smartphones become more and more entrenched in our daily lives, it makes sense to use them to their full potential. In olden days, Franklin Covey planners were the ultimate in organizational tools. But today, there are dozens of apps that are helping people streamline their professional and personal lives. Now, you can say goodbye to that beefy paper planner and say hello to hand-held organization.
Outlook
No list of productivity apps is complete without a to-do or calendar app. Outlook is one of the world's most popular email apps. With Outlook, you can manage multiple email accounts, to-do lists, calendars, contacts, and files in one place. It also lets you sync to Outlook.com for seamless email management on all of your devices. It doesn't get much better than that.
Mint
An adoptee to the Intuit family, this handy little free app can track all of your finances in one place. All you need to do is put in the logins and passwords to your bank, credit card, investment, and loan accounts. Mint then uploads your financial data for those accounts for three months prior and updates as you make new transactions. Asset values for assets like homes and cars can be tracked as well. You can set up budgets and financial goals and sign up for credit score tracking. Mint introduces you to money-saving opportunities and even tells you when your bills are due. Mint also allows you to export your transactions so that you can use other financial tools such as TurboTax.
Pocket
Are you an avid article reader? When you run across articles you want to read, but just don't have time to read them immediately, save them to your Pocket app. It can also handle video clips. Just past the URL into the app and, voilà, you've got something to do when you're in the waiting room at the doctor's office. You can tag your saved items and search by tag to read (or watch) everything on a particular topic.
Slack
Communication is important, whether you're at work or at home. Slack is an easy-to-us app that eliminates those dreaded threads of group emails. Slack handles all those quick little questions between team members and allows for file and image uploads. Chats can be between individuals or groups. Slack also makes it possible for you to write notes to yourself and set reminders about things you (or someone else) need to do. Better yet, it provides giphy options directly in the app to make your day at the office more fun.
When you use these apps on your home or business internet, they will be completely free. Outside of wifi locations, you merely need to stay within your data usage quota. Either way, these apps will make your life a little easier, especially when you're on the go a lot.