Access Control Systems help us combat theft and vandalism and are integral in our lives today and more prominent that we might originally think: door locks on our vehicles, pin numbers on our ATM cards, and now it is becoming more and more common to find access control systems in our work place. The possession of access control in a business setting is of utmost importance when we want to secure important, confidential or sensitive information or equipment.
According to Wikipedia, the free encyclopedia: Access control system components
An access control point, which can be a door, turnstile, parking gate, elevator, or other physical barrier where granting access can be electronically controlled. Typically the access point is a door. An electronic access control door can contain several elements. At its most basic there is a stand-alone electric lock. The lock is unlocked by an operator with a switch. To automate this, operator intervention is replaced by a reader. The reader could be a keypad where a code is entered, it could be a card reader, or it could be a biometric reader.
In today's environment, it's more important than ever to deploy an access control system
with state-of-the-art security features. Centralized management, user-level permissions,
detailed logging & advanced notifications are all tools that will combat theft and vandalism.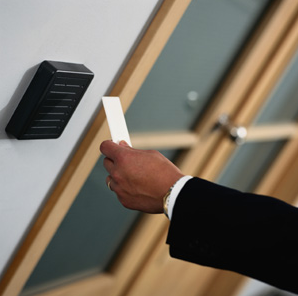 Property, Personnel, Profit
Access Control Systems in your business environment protect your property, your personnel, and your visitors. By managing and monitoring access into and from any area or building, your system will keep you in complete control of any site, no matter how large or small. Simple systems consist of access controls for three or four doors, while a large system could include multiple high security systems in different sites, incorporating thousands of card readers in different locations.
Total Control
Some of the many benefits of installing access control in your organization are restricting walk-through traffic in secure areas and reducing the use of easily copied keys, as well as saving the money and hassle of lock replacements with an electronic system where personal access levels can be changed in a matter of minutes.
Customized Solutions
There is a wide variety of systems, incorporating proximity cards, swipe cards, smart cards and Biometric fingerprint technology, all of which can be integrated into your access control software and hardware.
Complete Site Management
By using an access control system, you can control who can access your organization, which areas they can visit, and when they can enter. The system will automatically fulfill security tasks including locking and unlocking doors, monitoring valid and invalid attempts, and void card use. Unlike using keys, an automated access control system allows you to appoint, change and remove entry privileges immediately.
Here is a list of products, a variety of access control systems that we can help you incorporate into your work place. Contact us at World Telecom & Surveillance of Redding, California, for more specific details regarding any of these access control systems.